Who We Are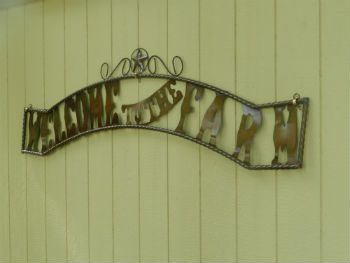 Stillwaters Farm started as a dream of a house in the country. We found the perfect piece of property but it was covered by trees and thorns with little room for a house, a garden, or an orchard. We cleared the land with tools that we never knew existed, put in our orchard, had a lake dug, built our house, and planted grapes and a large garden. Next came something Martha was thinking about for a long time – bee classes and the start of bee hives. They fit in perfectly with the orchard and the grape vines and they continue to make wonderful honey. The dream of living in the country has developed more than we ever thought it would! What we don't grow, such as our strawberries and blueberries, we are able to acquire from local farmers. We grow several varieties of peaches, plums, pears, blackberries and grapes. Our garden produces the peppers that we use in our 5-Star Pepper Jelly – both regular and hot. We also use our habanero and jalapeno peppers in our Habanero Peach and Jalapeno Strawberry . The apples for our "just like Grandma used to make" Apple Butter comes from Northwest Arkansas as Texas just doesn't produce the right apples for our very popular Apple Butter.

The hand-crafted Jams and Jellies from Stillwaters Farm continue to be more popular every year and we have had to expand into a second orchard, a greenhouse, and a commercial kitchen. Check out our many varieties on our website and at numerous local events; information on both is available on this website.

Gift baskets from Stillwaters Farm continue to be a hit – especially around the holidays and as wedding favors. These custom-designed baskets include your choice of jams and jellies as well as several complementary Texas products. Let's discuss your needs to make that perfect gift for neighbors, friends, family, and business associates – and don't forget to gift yourself with those yearly favorites before the season is over and production ends.


Martha and Rick Still
Stillwaters Farm